Create platforms that makes you smile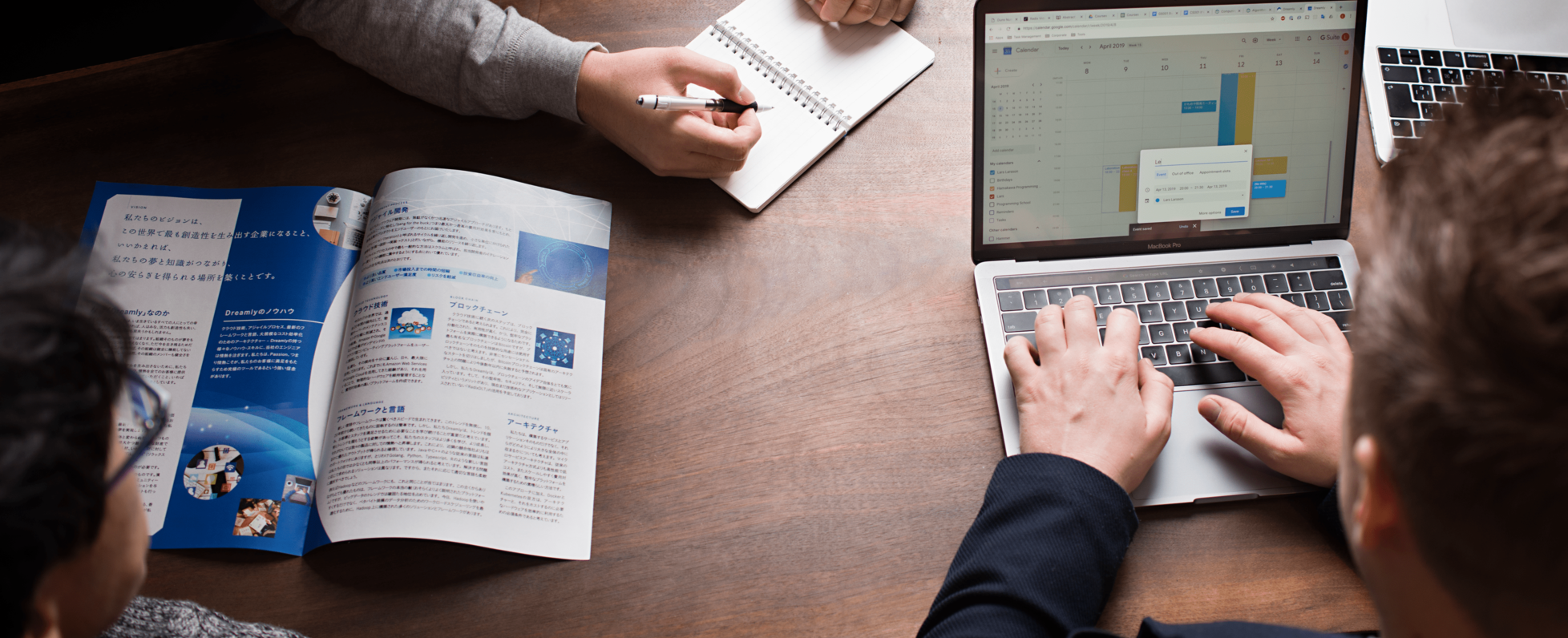 I've always had a passion for technology so when I started to feel that I wanted something more, after working for a few years after high school in the Security Industry in Sweden, the decision was obvious - I started my studies at The Royal Institute of Technology in Stockholm at the Bachelor & ...
Dreamlyとは、我々スタッフと顧客さまとが共に生み出す全ての価値です。私達は、顧客さまのビジネスを次のレベルに引き上げるお手伝いをするために全力を尽くし、最新テクノロジーを駆使した私たちのツールで顧客さまにとっての夢を実現します。
ツールを生み出す人材は、ツール自体と変わらぬ価値をもつものです。当社のスタッフは当社にとって最大かつ最も重要な財産であると考えます。したがって、私たちは、人材、いわば人財に対しては常に、スウェーデン文化の理念でもある "Fika First" (リラックスした自分の時間を第一に)のマインドを忘れません。

しかし、"dreamly"になるためには、もっと多くのものが必要です。
当社はあくまで環境であり、スタッフこそが会社そのものです。濱川学院や高松高専、および地域のエンジニアリングコミュニティーと緊密に連携して、私たちの環境・文化にインスピレーションを与え、今そしてこれからの時代を創る若者の世代をサポートも行っていきます。

新しいアイデアを創造し育み、人々に繁栄と夢をあたえられる、香川というこの地域をそれが実現できる場所へとすること、それが私たちの願いでもあります。
One could say that Dreamly is the cumulative result of its' staff and customers. We do our utmost to help our customers take their business to the next level. This we do with the very latest technologies and processes to make sure that our tools are as sharp as they can when we help create our customers dream.
The hands using the tools are at least as important as the tools themselves hence our staff are considered the greatest and most important asset of our company. Hence we pride ourselves in taking a Swedish approach to HR management, where effectively used time comes from the Fika First methodology.
But there's more to what makes Dreamly.
We are our surroundings, the staff is the company. And where are our employees found, but not in our surroundings. By working closely with Hamakawa Academy and Takamatsu College of Technology and local study groups, we aim to bring inspiration to our surroundings and encourage the youth of today and tomorrow. This we do simply because - more are merrier.
We aim to create an inspirational environment in Kagawa where new ideas are created and nurtured, bringing prosperity and dreams back to Kagawa.
夢を見られること、それは、いま生きているすべての人にとっての幸福そのものです。夢がなければ、人はみな、活力も創造性も失い、遅かれ早かれ、生きる意味も見失うかもしれません。
それと同じことが組織にも当てはまります。組織そのものが夢をもち未来のビジョンについて考えなくなり、ただ今を生き残るためだけに終始するようなことがあれば、その組織は健全に機能してないというサインと言えます。― 当然、その組織のメンバーも健全さを失います。

そのようなネガティブなサイクルを生み出さないために、私たちDreamlyは、私たちの経験、ノウハウ、情熱を全てのお客様に提供し、心の安らぎを感じて「夢」を持っていただくこと、いわば"Dreamly"になれるようサポートすることを理念としています。
To be able to dream, wake or asleep, is a central piece to the wealthfare of every person currently alive. Without dreams a person lose energy and the ability to think creatively. Sooner or later the person collapses.
The same applies to organizations. When a organization stops to dream, think about the future and only does it utmost do survive in the now, this is a sign that the organization is not healthy - that its' members are not healthy.
Dreamly wants disrupt this negative cycle, by providing experience, know-how and our passion to our customers and enabling them the peace of heart to dream again, to be Dreamly.
クラウドテクノロジー、アジャイルプロセス、最新のフレームワークと言語、大規模なコスト効率化のためのアーキテクチャー – Dreamlyの持つ様々なノウハウ・スキルに、当社のエンジニアは情熱を注ぎます。私たちは、Passion、つまり情熱こそが、私たちのお客様に満足をもたらすため究極のツールであるという強い信念があります。
Dreamly is looking for passionate and talented Backend & Frontend (Fullstack) Developers for inhouse IT consultancy services. We at Dreamly are keen to provide our services to Japan with the Swedish approach to Software - create software that you can brag about and love creating.
Be one of us and bring true quality to Japan.
Requirements
We're looking for passion, Junior to Senior, Backend & Frontend (Fullstack) Developers.
You should understand the Web inside and out and take pride in your craft.
- Experience developing web applications
- Experience developing web APIs
- Proficiency with HTML, CSS, JavaScript
- Proficiency with Golang, Node.js, Python
- Proficiency with using MySQL/MariaDB, PostgreSQL, MongoDB etc
- Familiarity with application development using an MVC-based approach
- Being a team player helping everyone to do their best
Since we work closely with our customers we only looking for inhouse developers.
Desirables
- Ability to work comfortably in a fast-paced, Agile team development environment
- Excellent problem solving skills
- Experience with Webpack, Gulp, React, Angular, Typescript
- Experience in building and maintaining complex systems
- Experience in Progressive Web Apps
- Experience in IoT integrations
- Experience in Blockchain technologies such as Ethereum
Benefits & Perks
- Be creative - all days of the week!
- International environment, with japanese and foreigners working together
- Swedish working mentality - You work for your hobbies, not for work.
- Be at home with your children whenever they are sick and take them to/from preschool
- Casual Dress (when in the office; when at a client site, we skip the jerseys :) )
- Relaxed working environment
We are looking for both foreigners and japanese, both local in Kagawa but are also willing to sponsor relocation for the right individuals.
フラットな組織
Dreamly is a Swedish company founded in Japan, where hierarchy is d... さらに表示
みんなでランチ
Having Swedish Fikas, as well lunches, together helps the team rela... さらに表示
子供がいても働きやすい
We firmly believe in work-life balance, for parents as well. We wan... さらに表示
募集情報
探している人
Fullstack Dev
採用形態
新卒採用 / インターン・学生バイト / 中途採用
募集の特徴
言語を活かした仕事 / 留学生さん歓迎 / 友達と一緒に訪問OK / 学生さんも歓迎 / ランチをご馳走します
会社情報
創業者
Lars Larsson
設立年月
2018年10月
社員数
1人のメンバー
関連業界
情報通信(基盤/SI/パッケージ) / 教育・研究